Social responsibility

Cambridge School is committed to improving society, supporting the most disadvantaged communities through specific fund-raising initiatives.
In 2015, Cambridge School signed an agreement with the Vallès Oriental branch of Mans Unides, a non-governmental organisation whose mission is to eradicate hunger and poverty in the Third World. This agreement marks the starting point for our social responsibility strategy and entails us committing to donate to Mans Unides projects and to raise awareness among staff, students and the general population in Vallès Oriental about the causes underlying Mans Unides projects.
Our collaboration
Cambridge School's collaboration entails holding a Christmas Pantomime put on by our teachers and staff and donating all the funds raised through families and students and an additional amount from Cambridge School.
Cambridge School also actively supports any fund-raising initiative of teachers, students, and administration and management staff through promoting and organising the event and making an additional donation. Examples of such initiatives include holding charity school-snack events and sponsoring staff taking part in the Granollers Half Marathon.
This year's project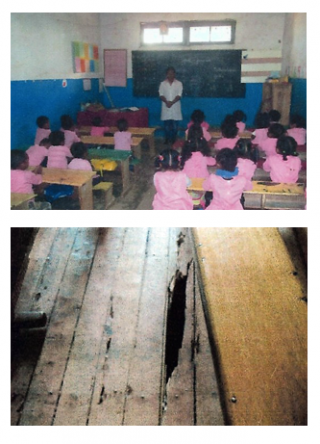 As each year, Mans Unides is raising money for a good cause. The focus this year is 'Fighting against illiteracy by improving educational installations'. The funds raised by our Vallès Oriental branch will go to a project in Imerinafovoany, a poor neighbourhood of Antananarivo, the capital of Madagascar.
Current situation: The population of Imerinafovoany is growing at an alarming rate (16% per year) due to people who are moving from rural areas to the city and who survive on less than a euro a day. As a consequence, the local schools and basic services are insufficient for the community's needs. Recent arrivals have great difficulty finding school places and getting an education. The Saint John the Baptist parochial school, which has been running in the area for 142 years, is housed in a series of old buildings which are in very poor condition. One building, where 400 pupils study, is structurally unsound.
The objectives: The overarching aim is to combat illiteracy. The concrete measures are: demolishing the unsafe school building and replacing it with a new one which will provide the children with a safe learning environment and improved facilities. This should also help provide space for additional children, who currently don't have a school place.
The construction work will take one year and the cost of the project is €57,793 which the Vallès Oriental branch of Mans Unides will raise in collaboration with entities such as Cambridge School.
The 2017 project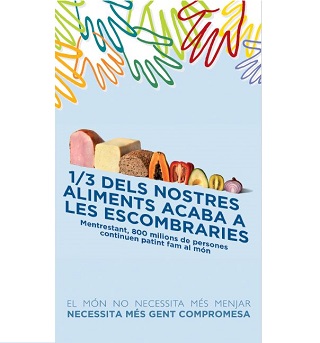 In 2017, the fight is against food wastage, under the slogan of: "A 1/3 of our food ends up in the rubbish while 800 million people around the world go hungry." Mans Unides Vallès Oriental's project entails building and opening to the public a fair-trade shop to help recover coffee and cacao farming and the production of chocolate.
The people the project will help live in Comalcalco/Tuxtla, a rural town in the poor southeast of Mexico. In this area, 46% of the population live in extreme poverty (over 11 million people) and suffer great wealth inequality, violence and corruption.
For this reason, a project has been initiated for training and educating locals to farm cocoa and chocolate to help them get out of extreme poverty, also helping them to obtain the farming land. The beneficiaries of the project are 303 farmers, workers in associated jobs, and, indirectly, their families, over 1500 people.
Mans Unides will contribute by funding the building of the fair-trade shop and the associated equipment and expenses so that the produce can be sold at competitive prices to ensure quality at a fair price and social justice.
A total of €53,333 will be invested in the project, which Mans Unides Vallès Oriental will raise through initiatives such as those carried out by Cambridge School.
The 2016 project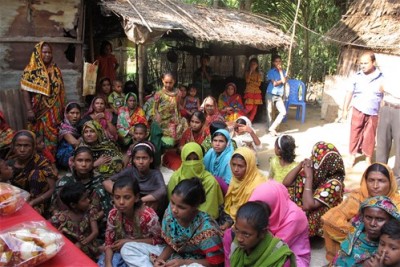 Each year, Mans Unides Vallès Oriental raises money for a different project. The project for 2016 is to help and train tribal and 'untouchable' women on the west coast of India. In this area, women work in the fields and suffer discrimination due to their caste, social class and gender. They're also victims of wage inequality and domestic violence. Most of these women are illiterate and isolated from one another, which is one of their biggest problems.
For 40 years, the Cross of Chavanod has been helping the inhabitants of these towns. During this time, the Divya Sadan Social Centre, Wadali, has become an organisation dedicated to the integral development of poor and marginalised communities and their families.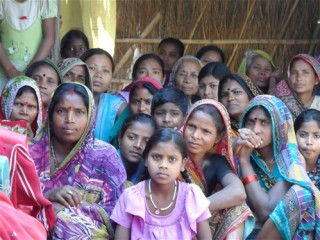 These religious workers currently provide education, train women and further the development of young people through vocational training. They have a counselling centre and offer grants, classes for early school leavers, agriculture development and subsistence programmes, health counselling, IT and sewing classes, training for women's associations, and workshops.
This support from Mans Unides will reach 3,968 people in 5 villages and 10 shantytowns. Through the serveral initiatives carried out by Cambridge School in 2016, we've raised a total of 4.466€ for the project.
You can read more information about the project (in Catalan) in this Mans Unides page: http://www.mansunidesvor.org/muvo_projectes.php?any=16
The 2015 project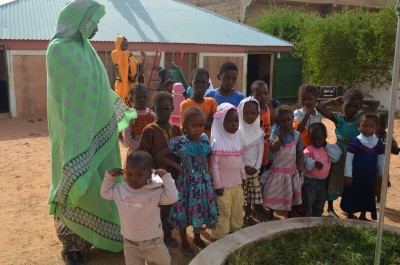 In 2015, the Mans Unides – Vallès Oriental project entailed the construction of two preschools in the south of the Islamic Republic of Mauritania, in two outlying suburbs of the city Kaédi, with a population of over 1,450 families between them.
In the country as a whole, the primary-school dropout and failure rate is very high, especially for girls and the children of illiterate families. The first school was built in the suburb of Inity, located at the very north of the city and with an extremely poor population of farmers and cattle herders from the country, ex-slaves, etc. The second school is also built, in Belel Hawa. The majority of the population here is of the Pulaar ethnicity and also very poor and lacking basic rights.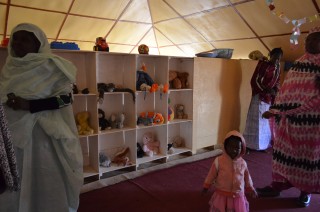 Both schools have two classrooms, an office, a warehouse and a kitchen and will be enclosed. In total, thanks to the project, 105 children in Inity and 197 in Belel Hawa between 0 and 6 are able to attend to school from a very young age, where they are stimulated with basic learning activities and games, receive adequate food — which greatly improves their learning capacity, and provides them with a safe place to be while their mothers are at work.
The photos show one of the centres already up and running. Thanks to the several actions, Cambridge School contributed with 1.867€ to part of the cost of the facilities and commencing the project.