Cambridge Exams at Your School
What is CAMBRIDGE EXAMS AT YOUR SCHOOL?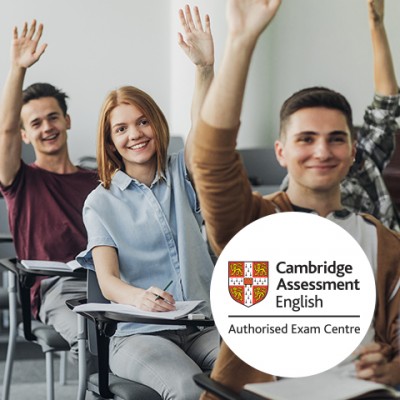 Cambridge Exams at Your School is a Cambridge School programme for regulated public, private and subsidised schools. Its main aim is to promote exams in the school environment as a fundamental instrument for supporting and furthering bilingualism in primary and secondary schools.
By signing of an agreement between your school and Cambridge School as an Authorised Examining Centre, you can get Cambridge English Language Assessment to hold the Cambridge English exams from the University of Cambridge at your school (provided it meets certain conditions) at a reduced price (the same price across Spain).
The following Cambridge exams are included in the programme: Young Learners English Tests (YLE), A2 Key English Test for Schools (KET), B1 Preliminary English Test for Schools (PET) and B2 First Certificate in English for Schools (FCE).

There is a wide range of dates throughout the year for doing these exams.
Benefits of the programme
At no additional cost: All schools taking part in this project can have the exam held on their premises without having to pay extra for this service.
Greater confidence: Students don't get as nervous as they do when doing the exams in an external centre with candidates from other schools and centres. They are more relaxed.
Increased motivation: The children strive to get better results than their classmates.
Familiarisation: Students get used to doing English exams, which become just another part of their school syllabus.
Improved future prospects: After finishing high school, students start their further education with a good standard of English.
How to join the programme
It takes 2 easy steps to become part of the Cambridge Exams at Your School programme:
STEP 1. Contact us by sending an email to examens@cambridgeschool.com or calling 93 870 20 01, and we will provide you with more detailed information and advice on the specific requirements for your school.
STEP 2. Sign the agreement we provide you with.
Part of this agreement's objective is to ensure that the school has exam classrooms that meet the Cambridge English exam regulations, is adequately insured and does not misuse the Cambridge English logos.
Please note that this agreement DOES NOT oblige your school to present a certain number of students for the Cambridge Exams each year to maintain the collaboration agreement.
Prices 2023-24
Exam
Price
Cambridge English YLE: Pre A1 Starters

67.00

€
Cambridge English YLE: A1 Movers

68.00

€

Cambridge English YLE: A2 Flyers

70.50

€

Cambridge English: A2 Key / Key for Schools (KET)

105.50

€

Cambridge English:

B1

Preliminary / Preliminary for Schools (PET)

112.50

€

Cambridge English:

B2 First

/ First for Schools (FCE)

209.00

€

Cambridge English:

C1 Advanced

225.50

€