Official exams
During this stage, we give the children the option to do two of the University of Cambridge exams: Starters and Movers. These are the Cambridge Young Learners exams, which have texts and images that are both clear and appealing for candidates of this age and profile. The Young Learners exams aim to: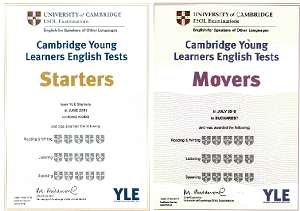 Show a relevant use of the language with real meaning
Develop a positive first impression of international tests
Promote effective language learning
Encourage continued English study
What makes these exams particularly suitable for children is that there is no pass or fail. Every child sitting the exam receives a certificate, which creates a positive experience for the child. Candidates do not get a mark. Instead, they can get up to 5 shields for each part of the exam, depending on how they go.
These exams are highly motivating. Students get an internationally recognised certificate and a very good idea about what future Cambridge exams will be like, some of which are required for university studies.