Talks and workshops for secondary schools
Cambridge School proposes different formats of activities (talks/workshops) for students between 12 and 17 years old, all of them given by native teachers from our schools.
1- TALKS
Our talks for high school students can be about the culture of Britain or another English-speaking country (e.g., New Zealand, Australia, US or Canada) or any topic of interest for students of this age.
Objetivos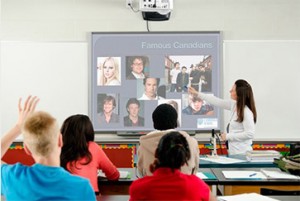 Provide students with the chance to meet and talk to a person from an English-speaking country and practice speaking and listening in English.
Give students an opportunity to practice the language they study at school.
Provide an opportunity for self-assessment in a situation different from the typical classroom activity.
Description
The talk allows discussing in detail the subject proposed, extending vocabulary and focusing on English pronunciation. The teacher starts the talk with a presentation in PowerPoint or a similar format to introduce the topic before moving on to questions from students.
This activity can be included in the syllabus of the foreign language subject of the schools.
Details
Maximum number of students per group: 50-60
Where: At the school or via Zoom
When: During the school year from October to May
Length: 1 hour
Activity time: To be agreed upon by the school and Cambridge School
Topics
Below are some suggested topics that we have already done in schools:
Topics for teenagers
6 ways to destroy the planet
Weird world records
5 amazing animals
All about social media
The greatest inventions in history
The best fantasy books for teens
Could you survive the worst places on Earth?
The worst jobs in history
SPECIAL TALK-WORKSHOP: Create your own superhero
English/US culture
All about Canada

All about London

All about New York

All about Scotland

All about New Zealand and Australia
Britain and British customs; differences between Catalonia and Britain

Differences between American / British culture

Christmas in England

Christmas in the USA

Christmas in the English-speaking world - NEW
2- RAP WORKSHOP
Es un taller de inglés con un profesor nativo de Cambridge School que fomenta el aprendizaje del inglés a través de la música Rap, en un workshop participativo que incluye una introducción a estas músicas y la producción de canciones y letras propias por parte de los alumnos.
Objetivos
Motivar y animar a los alumnos a aprender inglés a través de una disciplina artística y cultural que conecta con sus gustos y que resulta muy próxima a sus necesidades durante la etapa adolescente.

Poderse evaluar individualmente ante una situación diferente a la que se pueden hallar dentro del aula
Description
La actividad consta de dos partes:
1) Primera parte: Contextualización y preparación. Con una breve introducción a la cultura Hip-Hop y al Rap, ejercicios prácticos de rima, métrica y otros aspectos técnicos del rap, y ejercicios de vocabulario sobre temas específicos mediante juegos para activar vocabulario preexistente y aprender léxico nuevo.

2) Segunda parte: Sesión creativa, en que los alumnos se dividen en grupos reducidos y escriben sus propias letras, mientras el profesor monitoriza el proceso y asiste a los alumnos, ofreciéndoles ideas y sugerencias, así como correcciones de vocabulario y pronunciación. Y el Gran Final: los alumnos interpretan su rap delante del resto de clase.
Details
Número máximo de alumnos por grupo: 30 alumnos
Lugar donde se desarrolla la actividad: En el centro educativo
Calendario: Durante el curso escolar de Octubre a Mayo
Durada: 90 minutos o 2 horas
Horario de la actividad: A convenir entre el centro y Cambridge School
Profesor:

El taller está impartido por un profesor inglés de Cambridge School con una trayectoria de más de 15 años como letrista de rap y creador de álbumes de hip-hop.
Topics
Desde Cambridge School proponemos escoger entre amistad, hobbies, Navidad o fiestas, redes sociales...
For more information
For more information, fill in the form or call 93 870 20 01.