Talks for secondary schools
Our talks for high school students can be about the culture of Britain or another English-speaking country (e.g., New Zealand, Australia, US or Canada) or any topic of interest for students of this age. The talks are given by Cambridge School native teachers.
Objetivos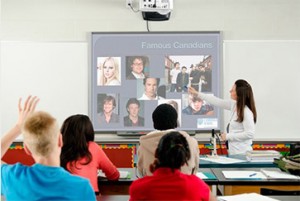 Provide students with the chance to meet and talk to a person from an English-speaking country and practice speaking and listening in English.
Give students an opportunity to practice the language they study at school.
Provide an opportunity for self-assessment in a situation different from the typical classroom activity.
Description
The talk allows discussing in detail the subject proposed, extending vocabulary and focusing on English pronunciation. The teacher starts the talk with a presentation in PowerPoint or a similar format to introduce the topic before moving on to questions from students.
This activity can be included in the syllabus of the foreign language subject of the schools.
Details
Maximum number of students per group: 60-70
Where: At the school or via Zoom
When: During the school year from October to May
Length: 1 hour
Activity time: To be agreed upon by the school and Cambridge School
Topics
Below are some suggested topics that we have already done in schools:
Topics for teenagers
6 ways to destroy the planet
Weird world records
5 amazing animals
All about social media - UPDATED
Create your own superhero - NEW
The greatest inventions in history - NEW
The best fantasy books for teens - NEW
Could you survive the worst places on Earth? - NEW
The worst jobs in history - NEW
English/US culture
All about Canada

All about London

All about New York

All about Scotland

All about New Zealand and Australia
Britain and British customs; differences between Catalonia and Britain

Differences between American / British culture

Christmas in England

Christmas in the USA
For more information
For more information, fill in the form or call 93 870 20 01.