Methodology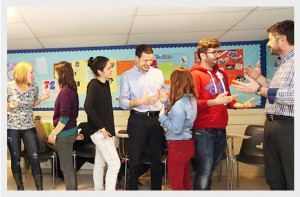 At Cambridge School, we follow what is known as the communicative approach, the predominant language-learning methodology both in Europe and worldwide developed over the last 30 years:
Under the communicative approach, students use the language they study from their first day in the classroom. Although grammar and vocabulary are studied by reading and writing, emphasis is placed on making sure students can communicate, hence there is a lot of listening and speaking practice, often in pairs or small groups, maximising each student's
The classes are varied, dynamic and highly interactive. Our classrooms are equipped with interactive projectors. Teachers use games, stimulating texts and audiovisual material to facilitate learning and ensure assimilation.
Learning with native teachers offers a range of advantages, including having a perfect model for pronunciation and the natural selection of vocabulary.
The minimum number of students per class is 5. Small classes ensure that each student gets adequate speaking practice and individual progress monitoring from the teacher.
We believe in guided discovery learning, and let the students — through doing specifically designed activities either in pairs or groups — discover the grammar rules for themselves. After which, the teacher clarifies anything not understood. Students remember the grammar rules because of the effort they put into discovering them and their active participation in understanding the language, which is, of course, much better than passively listening to explanations.
Our courses are clearly structured and programmed. Each level uses a course book complemented with a workbook. Students get homework each week to consolidate the work done in class, and their progress is assessed on a regular basis through tests and exams.