Vilanova del Vallès
For more information on our courses, call us on 93 845 91 64 or fill in the following form: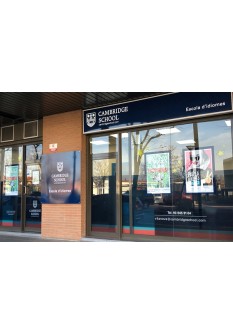 Our centre
Opened in the 2018-19 academic year, Vilanova is one of the newest Cambridge School centres. It's located in Plaça dels Països Catalans, in the very heart of Vilanova. The school, which was previously and ISL (International School of Languages) centre, has 6 fully refurbished classrooms equipped with the latest language learning technologies: a computer, interactive projector, whiteboard, sound system, air-conditioning and so on. What's more, there is lots of convenient parking spaces in front of the school.
Our courses
We offer English courses for pre-school children (18months to 3 years-Baby English), infants, primary and secondary school children as well as adults at all levels, from Elementary to Advanced. We have special preparation courses for official Cambridge English examinations. We also offer speaking and listening courses which focus on developing students' fluency. In addition, we offer group of one-to-one courses for all ages in other languages such as French, German, Italian, Chinese and Catalan or Spanish for foreigners.
Centre address
Pl. dels Països Catalans, 71B
08410 Vilanova del Vallès
Telephone and email

Tel. 93 845 91 64

Enviar WhatsApp
Opening hours
Mañanas
Martes, miércoles y jueves – de 9:30 a 11:45 h

Tardes
De lunes a jueves – de 15:15 a 20:00 h
Viernes – de 15:15 a 18:30 h
Managers
Centre Director: Sam Sayer
Secretary: Lara Lantigua