1-5 years
At Cambridge School, children start learning English from very young in a natural and spontaneous way through games, dialogues and songs following the "communicative approach", an educational methodology that aims for students to be able to communicate.
English is progressively introduced throughout the young learner's academic development with Baby English doing 45 minutes per week; preschoolers doing one or two hours per week; and primary students, first two and then three hours per week.
Objectives
Develop a positive attitude towards English in the child.
Provide a basic knowledge of vocabulary and expressions.
Rapidly achieve a natural comprehension of English, as the children do with their mother tongue.
Methodology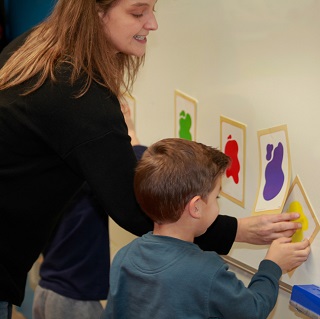 The methodology used is based on how the children learn their first language:
They understand what the teacher says in English without having to translate.
The teacher's instructions always have a communicative purpose (e.g., "listen, please").
Very basic vocabulary is used and repeated often (as adults do automatically when speaking with children in their first language).
Because all our teachers are native speakers, the children are exposed to a perfect pronunciation of the language and a natural selection of vocabulary.
The methodology is also based on the importance of context. The vocabulary presented comes straight from the stories and adventures of the characters featured in the class material, with whom the children very quickly identify and have an emotional tie.
It is also movement based. Learning at this age is primarily kinaesthetic, which means the children learn by movement and touch. They do mimes, actions, stick stickers and move pop outs — paper toys that come with the book, etc.
Lastly, the methodology is also based on music and rhythm. All classes start with music. The children listen and sing along and do actions in time with the music.
Progress monitoring
Parents receive a written report each trimester on their child's progress and behaviour and are invited to two individual meetings with the teacher.
Our strengths
All our teachers are qualified native speakers of the languages they teach.
Small groups, with a maximum of 6 babies in Baby English and an average of 8–10 students per group with preschoolers.
With lessons 100% in English, children are exposed to the language in a natural and spontaneous way, as they learn their first language.
Parents are informed on the child's integration in class, their behaviour and progress via regular written reports and personal interviews each semester with the teacher.