Success stories
A lo largo de nuestros más de 30 años, en Cambridge School contamos con múltiples historias de alumnos que han crecido con nosotros. Nos gusta conocer su trayectoria, intereses, objetivos, ilusiones y compartirlos con todos, ya que nos enorgullece su confianza depositada en nosotros a lo largo de su vida.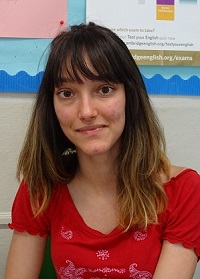 Amb 17 anys, la Clara Sarrià ha arribat al nivell Proficiency a Cambridge School, i s'ha presentat a l'examen oficial de Cambridge English, el de nivell més alt de tots. L'entrevistem un cop acabat l'examen i ens explica que estudia anglès perquè vol fer la carrera de Traducció i Interpretació, però no només per a això, diu que l'anglès l'ajuda a entendre millor la història, el món i l'actualitat, ja que molts llibres estan en anglès i li agrada llegir notícies en anglès.
Des dels 7 anys que estudia a Cambridge School i diu que l'anglès se li ha donat molt bé sempre, en general les llengües se li donen molt millor que les matemàtiques: "l'anglès l'he après de forma de natural, però aquests darrers anys sí que he hagut d'estudiar molt. M'he preparat molt per a aquest examen, espero que m'hagi anat bé". Ara que ja ha assolit el nivell Proficiency, diu que la seva fita amb l'anglès és aconseguir l'accent britànic, "perquè si no, no em prenen seriosament". Good luck, Clara!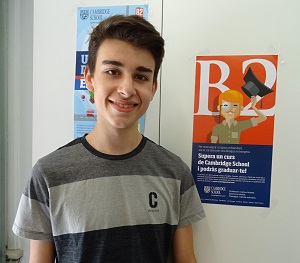 David Pasquet reached the CAE Advanced level when he was 15. This was his goal. But now that he has achieved it, he is setting his sights on Proficiency level. Since starting with us at the age of four, he has followed a complete study programme at Cambridge School. He has done winter courses, three summer camps with British Summer, intensive summer courses and summer camps, all of which he says were great experiences. He finds the intensive courses particularly satisfying because you improve dramatically in a short time. When asked about the years he has spent at Cambridge School, he says: "I have a very positive recollection from very early on. Although at first I didn't realise it, I took great satisfaction from my English getting better, and this made me keen for more. When I was little, languages weren't my strong point, but English always was. The classes here are at a very high level, which motivates and challenges me." And what does he most value about Cambridge School? "The native teachers and the fact it is a big school with a methodology different to small academies. The certificate awarded by the University of Barcelona is also very important."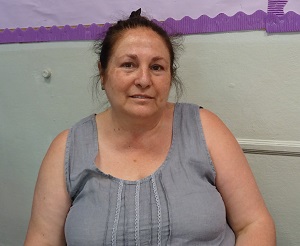 Mother of three (Enrique, Josep and Miquel Rull), Inés Trinidad has always felt very strongly that the best she could do for her sons was to give them a good education in English. "To have options in the world," she says, "you need to be open to what lies beyond your horizons." Well, she has certainly helped get them an excellent grounding in English. Enrique, the eldest, studied at Cambridge School for 17 years until reaching Proficiency level. He is now studying his doctorate at a university in the Netherlands. Josep, the second eldest, reached the CAE Advanced level and studied for half a year at an English university. Miquel, the youngest, has just passed his First Certificate and is enrolled for the Pre-CAE course. All three started at Cambridge School around the age of six on the winter courses. As teenagers, they also took the intensive summer courses. And what does Inés like about Cambridge School? "The patience and dedication shown towards students, and the way English is taught as a natural, everyday thing, which does not force students to bite off big chunks but gradually introduces them to English to ensure progressive learning," which is how the boys have got to where they are today. We greatly appreciate the trust this parent has placed in us for over 20 years!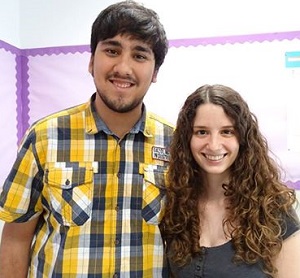 Alba Barrionuevo and Xavi Tabara both studied the Proficiency course at Cambridge School Granollers and sat the official exam in 2016. Alba is studying journalism and wants the qualification to help her find work in the field of international journalism. Xavi, on the other hand, simply loves languages. He doesn't need English for any professional reason, but he wants to take his English as far as he can.
Alba started at Cambridge School when she was 15 and Xavi when he was 11. Both students have continued studying with us until today. And the good news is their results for the Proficiency exam were as positive as their time at Cambridge School. Well done!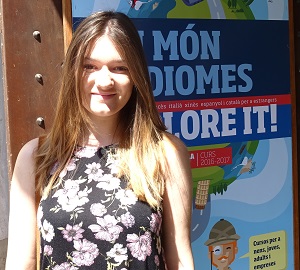 In the 2015-16 course, at just the age of 17, Ariadna Gutiérrez passed the official Cambridge Advanced exam with flying colours. She started studying at Cambridge School 11 years ago. At first because of her parents, later because she wanted to. In recent years, as the courses have become more challenging, she says the teachers have helped her greatly. "They know how to get the best out of you," she says, "they love teaching and want you to succeed. The teachers played a big part in me getting the First and Advanced certificates in such a short time". English has become a hobby for Ariadna. It now forms part of her life: "I like to learn about English culture, watch movies in original version, and read books and listen to music in English. I love travelling and plan to do a university degree entirely in English." Looking ahead, she has clear goals for her English: get her Proficiency certificate, study a degree in English and live abroad. Good luck, Ariadna! With your energy, no doubt you'll achieve all your goals!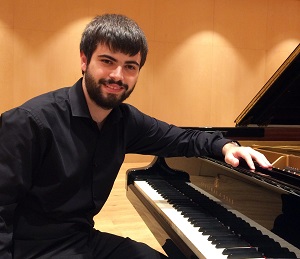 Víctor Braojos chose Cambridge School following recommendations from friends in Cardedeu. He has studied English with us at both our Cardedeu and Granollers schools. He started with a preparatory course for the First Certificate exam. Now he is studying the Proficiency course. He has a firm objective for his English, tied to his profession as a pianist. He aims to achieve the official Proficiency qualification next year as he needs it to obtain a grant for studying a master's degree in piano at the Royal Academy of Arts in London or the Yale University in the US. And what does he most value about Cambridge School? "How in tune the teachers are with the students," he says. "They are very attentive and follow you very closely, helping you to correct even the slightest errors." Because every little bit helps to get better. As Victor knows well from the effort he puts into his studies at the conservatory, the piano competitions he has won and the concerts he gives. We wish him all the best in his preparation for the Proficiency exam and his new disc, "Contrasts".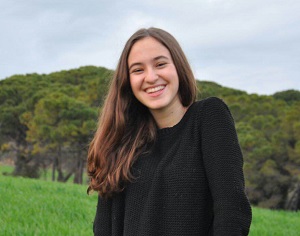 Aina Brichs started at Cambridge School when she was six, because her parents thought it was important, and she's always liked coming. She has now been with us for ten years and has just got a good mark on the official Cambridge exam. She attributes her success to both her interest in English and the Cambridge teachers. "I love studying English. I find it very interesting. I'm learning more and more and can speak it. This motivates me to continue," she tells us. She says that all the teachers she has had over these ten years have been "fantastic" and that she has very good memories of when she was little. In class she remembers that they played a lot of games. She found it very dynamic and fun. Her goals include travelling, getting to Proficiency level and spending a year abroad when she's at university. She also likes German. She did start studying it at one stage and thinks that she might take it up again when she has gone far enough with her English. Go for it, Aina!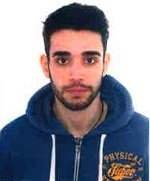 "What I like most about Cambridge School are the teachers, they are always at the student's side and the fact that they are native speakers is a big plus," says Josep Serra when asked about Cambridge School. Josep studied with us for 16 years, up until Pre-proficiency level. He then went on to do a year at university in London. Next year, he wants to study the CELTA qualification to become an English teacher. However, after receiving his First certificate, he had no particular goal in mind, although he says: "You need English. If you stop using it, you start losing it. By continuing your studies, you can maintain and improve your level." For this reason, he kept studying English, which has taken him to where he is today. He admits that when he was a teenager, he didn't always fully apply himself at Cambridge School. Even so, he says, "you still learn. It's worth it because without realising it, you end up speaking English and progressing".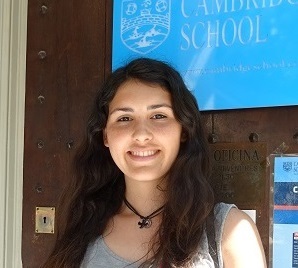 From when she started at Cambridge School at four, Mercè Oliveras remembers the games and the songs, how she always sung the songs and was told she had very good pronunciation. "I just imitated what I heard," she says. She also has fond memories of the summer camps in English at Cambridge School. She had a lot of fun, as she also did on all the courses throughout the levels, both the winter and intensive summer courses. "I've never felt like skipping a class. I always want to come. I have fun and love languages," she tells us. She got a good mark on the official CAE exam and is starting an International Baccalaureate programme in Girona with excellent prospects. And after that? Who knows? She may study abroad or travel but is keeping her options open. She believes "it is essential to study English outside of formal schooling" and that "not knowing languages shuts you off from the world".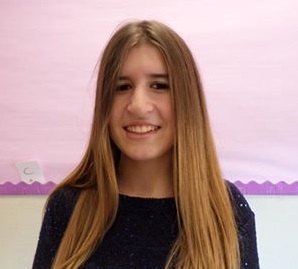 Naomi Herrerias started at Cambridge School when she was five and has since studied with us for 15 years. She is currently in her second year of Pre-proficiency. "In my first years here, we played a lot. I liked communicating with the teachers and seeing that they could understand me even though I still didn't know very much," she tells us. "As I got older, I liked meeting new people in the class." She aims to get her Proficiency certificate and maybe even obtain the CELTA qualification (the official Cambridge qualification for teaching English). "You really do learn at Cambridge School. With their teaching methodology, you learn. Of course, you have to put in the effort, but the method is crucial, and you have a very good relationship with the teachers, who are always at your side." Thank you, Naomi! Good luck!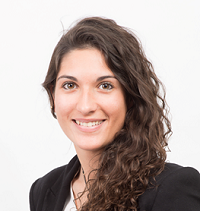 Mariona Domènech began English at Cambridge School Granollers when she was five. She has studied with us for 14 years, from preschool to the second year of Pre-proficiency. She also did two years of German in that time. She is now studying business administration and management at ESADE Business School and has to deal with many subjects and documents in English. As part of her degree, she studied for six months in Canada and has also done internships in Germany thanks to her German studies. "Today it makes no sense to not take an interest in English. It's inconceivable for me," she says. She aims to be a lifelong student of English and never let her English stagnate, either because of study, work or whatever reason.